Careers of the future: discover the advantages of studying Marine and Environmental Sciences in Australia!
As a student or professional looking to broaden your career prospects, studying Marine Sciences & Environment in Australia could be the perfect choice. We invite you to learn more about it in the following article!
Are you passionate about nature and environmental conservation? Would you like to study and practice as a professional in Marine and Environmental Sciences, enjoying great migratory benefits? Australia is the perfect choice!
As a student or professional looking to broaden your career prospects, studying Marine Sciences & Environment in Australia could be the perfect choice. If in your personal case, you are wondering how to extend your Visa in Australia after the Work & Holiday Visa or the Covid Visa, either for this professional sector or others, this note is definitely for you!
We invite you to learn more details below!
With a wide variety of Qualifications in many disciplines, such as Fisheries Science, Marine Biology and Climate Change studies, there is a diversity of options available for those wishing to specialize in this rapidly evolving field. In addition to the world-class research facilities and the advances that have been made over the years to ensure that students get the best preparation during their studies, there are countless advantages and opportunities associated with this sector in Australia.
Global leadership
Australia is considered a world leader in the Marine and Environmental Sciences sector. Its scientists, universities and institutes strive to understand and protect the unique flora, fauna and ecosystems that this great country has to offer. From finding new ways to sustainably harvest their resources, to researching new methods to increase the resilience of ecosystems in the face of global climate change. Australia's contributions have a significant impact around the world and the great benefits of being able to study and practice as a professional in this sector are incredible.
Australia's unique maritime environment makes it the perfect place for those seeking to pursue a career in Marine Environmental Science. With its extensive coastline, prolific aquatic life and renowned universities dedicated to the discipline, aspiring scientists can deepen their knowledge with challenging programs and the opportunity to develop valuable skills. Studying in Australia can provide excellent employment prospects in a variety of in-demand professions related to aquatic ecosystems, as well as pathways to possible residency.
Why study Marine and Environmental Science in Australia?
Would you like to know the benefits of studying Marine and Environmental Science in Australia? Here is everything you need to know about it:
You will experience some of the most advanced laboratories and have the opportunity to learn about the Australian workplace before you graduate.
The professors are specialists with international research recognitions.
You will be in contact with the real world, as field practices are mandatory in research work.
University degrees awarded by Australian universities are recognized around the world. In addition, they are ranked among the top 100 in the world.
You will be in permanent contact with students from all over the world.
Depending on the program you enroll in, you may be able to apply for the Temporary Graduate Visa (Subclass 485), which allows you to work full time.
You will have the opportunity to apply for permanent residency if you are eligible, since at this moment the professions related to this sector are in demand according to the Skill Occupation List. Skill Occupation List .
Visa options for industry graduates
One of the most attractive benefits of studying in the Marine and Environmental Sciences sector in Australia are the conditions that allow eligible students and graduates to live, learn and develop careers after their studies through the Temporary Graduate Visa (Subclass 485), which is a visa that allows international students who have completed at least two years of study in Australia and meet the Australian Study Requirement to work full time. Australian Study Requirement . Depending on the type of visa, it can last between 18 months and 4 years. Benefits of this visa include the ability to work without time restrictions, gain professional experience in Australia and include members of your family unit, such as a partner. This visa is commonly referred to as "Post-Study Visa", but this gives rise to some confusion as the Post-Study visa is one of the two types of this 485 visa. In the following link you can find on the official website of the Department of Home Affairs of Australia all the relevant information for this visa.
This is in addition to a great news! On February 22, 2023 the Department of Home Affairs published officially that as of July 1, 2023, those who have studied for a Degree that is in the list of qualifications and eligible occupationswill be able to access 2 years extra Temporary Graduate Visa 485 Post-Study Work Stream. For more details on this release, please read the following note.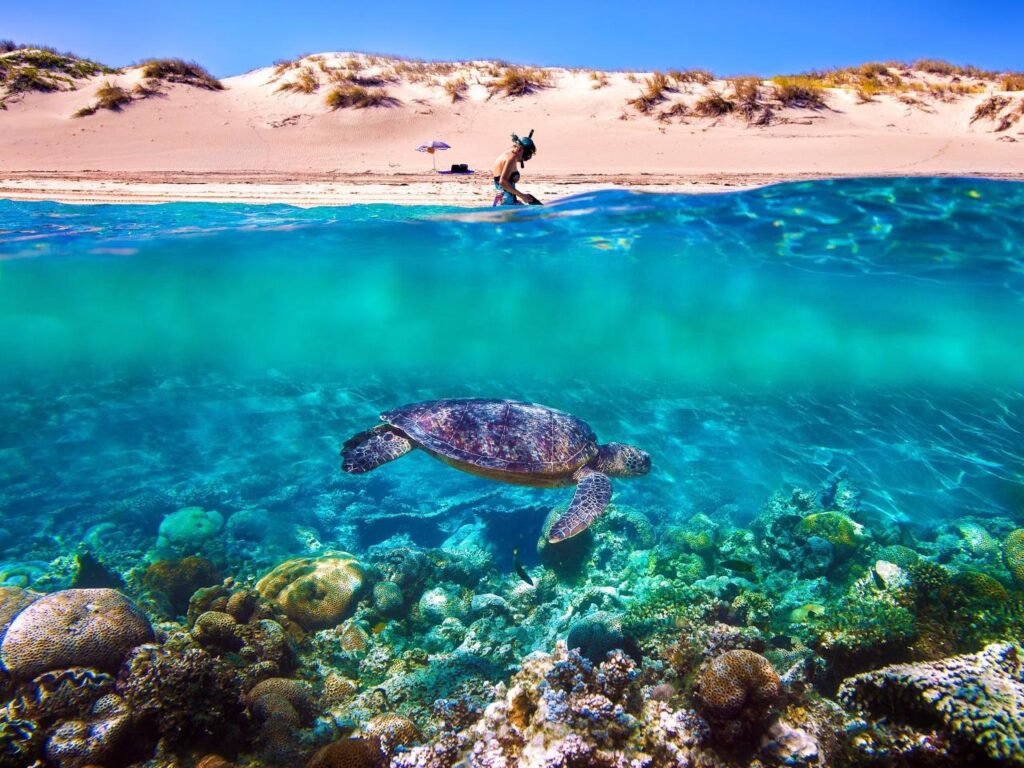 Universities to study Marine and Environmental Science in Australia
For many, Australia is recognized as an excellent research destination due to the wide variety of opportunities available. From access to world-class facilities, collaborations with leading experts and prestigious universities and organizations, students and professionals in Australia have a wealth of resources to explore their ideas and achieve the best results. Compared to other countries, Australia stands out for its extensive experience and generous support for research. As such, those seeking new opportunities in research would do well to consider all that Australia has to offer.
These are the top universities to study Marine and Environmental Science in Australia:
Griffith University;
University of Sydney;
University of South Australia;
The University of New South Wales;
Southern Cross University.
Very important! All these Australian universities offer scholarships from 10% to 50% discount for university programs throughout the year. At ACE Australia we can help you choose the best option and accompany you through the whole process!
Recognition of Prior Learning (RPL)- Credit Transfer
Would you like to know how to transfer your Marine Sciences & Environment career to Australia?
The Credit Transfer or Equivalency System is a process that is carried out with the Australian University to which the student seeks to apply, where credits from their own curriculum are analyzed and recognized for subjects and/or Qualifications that the student has completed at another Institution. Now, how do you apply? At ACE Australia we can help you do it! We have this extra service where you can:
Prepare the academic application
The University's academic programs are evaluated
Evaluate completed academic programs
Analyzes potential equivalences
Apply to the Australian University
Possibility to study at VET-TAFE Colleges
Other opportunities offered by the Australian Education System for this sector, is to be able to carry out study programs at VET-TAFE Colleges.which offer a wide variety of technical and vocational Qualifications in the Marine Sciences & Environment sector, within the category of Certificates, Diplomas and Advanced Diplomas. These pathways are all complementary to each other and allow students to undertake a first study experience of shorter duration in Australia and then to be able to connect these already completed studies, through Pathways with other Australian Universities.
For example, a student who wishes to begin his or her experience by studying a Qualification related to the Marine Science & Environment sector, decides to start a Certificate III in Marine Habitat Conservation and Restoration at Envirotech Education, a VET institution with campuses in Byron Bay and Gold Coast. At the end of their studies, if the student wishes to extend their experience in Australia and continue their professional preparation in this sector, they can take a pathway to a University to complement their Certificate with a Bachelor or Master in Marine Science. This type of strategy will allow you to project a long-term experience taking advantage of different benefits, which will be developed in greater detail in the following section.
Model Plan from an 8-year experience in Australia.
What is the type of experience we are talking about?
In the following section, we will detail an experience model so that you can also analyze a financial planning for this type of medium-long term route plan in Australia. As an example we will use the Bachelor of Marine Science at Griffith University.
To begin his experience, the student will complete 3 years of the Bachelor of Marine Science at Griffith University, Gold Coast campus. This type of Qualification currently (2023) has a total Tuition Fee of 109,500 AUDnot to mention the possibility for international students to apply to different types of scholarships (between 10% and 50%) depending on the academic area, nationality, academic merit, among other criteria that may be taken into consideration. In the case of Griffith University you can access information about the different scholarships through the following link.
After the three years of study at Griffith University at the Gold Coast campus, the student has the possibility to apply for the Temporary Graduate Post-Study Work Stream Visa. The duration of this new Visa will be 2 years, since the student has already completed a Bachelor Degree, and an additional 1 year for having studied in Gold Coast, a Category 2 Regional Area. However, following the new measure announced by the Australian Government as of July 1, 2023, within the List of occupations and qualifications eligible for post-study work rights, a large number of qualifications in the Marine Sciences & Environment sector are included in this list. Among them, the Bachelor of Marine Science. Giving the student the possibility of adding 2 more years to their experience. That is, with an approximate investment of 109,000 AUD during the first three years of the Bachelor Degree, you will be able to undertake an 8-year experience in Australia, with the possibility of working full-time and developing in your professional field. In addition, having studied a Bachelor's degree in a Regional Area such as Gold Coast, will give you the possibility to score points towards Permanent Residency!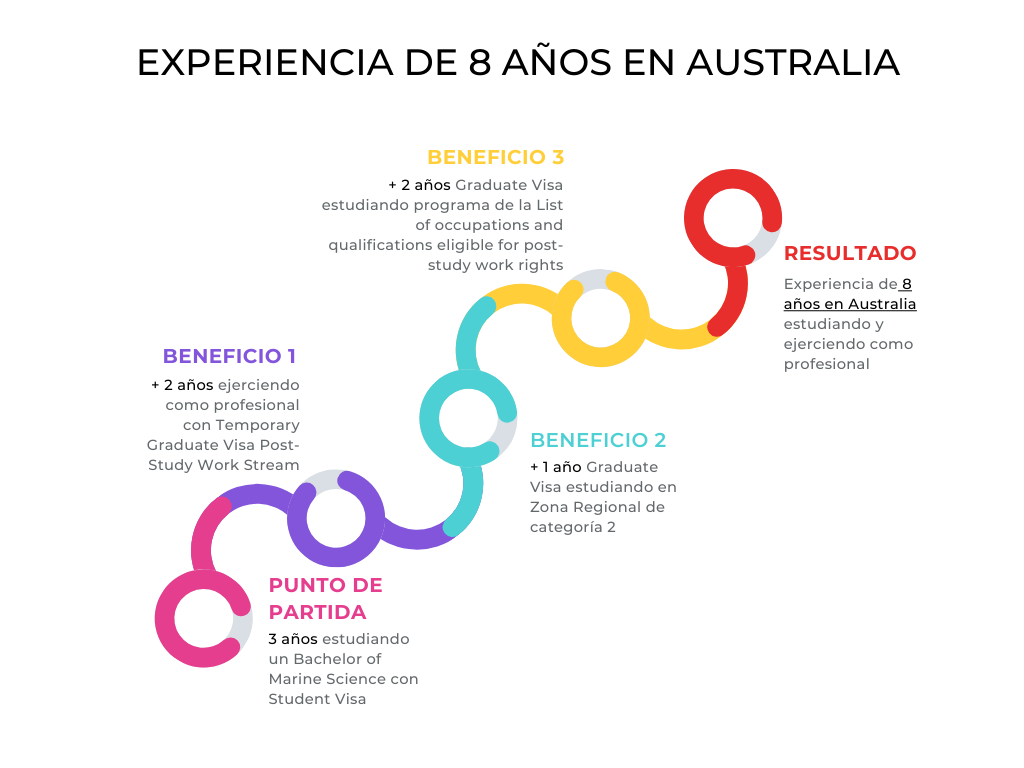 Depending on the experience you are looking for, if you wish to know more information about the different immigration opportunities and benefits you could obtain depending on the path you take, contact us and we will gladly advise you on this particular matter. Australia is waiting for you, get ready to #LiveTheExperience.
Empecemos a conocernos 🙂
Cuéntanos sobre tus intereses y objetivos. Dá el primer paso y nosotros te acompañamos el resto del camino.