The possibility of extending your stay in Australia studying carpentry
Study a vocational course, be able to work what you like and stay more years in Australia
The possibility of extending your stay in Australia studying carpentry
Studying a vocational course, being able to work in what you like and staying more years in Australia is a dream that you can make come true.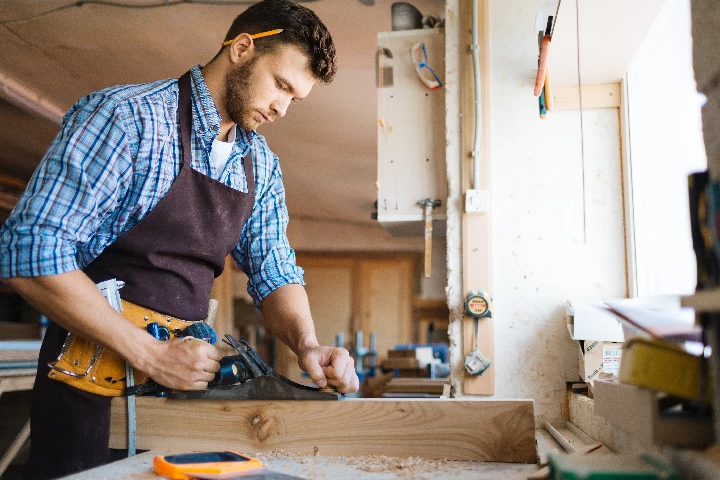 Flexible and adaptable work anywhere in the world. A trade that is increasingly growing in Australia , where there is more and more demand from the country and its needs every year. What better scenario to study what you like?
WHAT YOU WILL LEARN
By studying a Certificate III qualifying vocational course , you will incorporate skills and knowledge to become a highly qualified carpenter. You can work in the field of construction and building.
If you want to know more about vocational courses you can read our article 10 reasons why you will want to study a VET course.
Throughout the course, you will receive training for the study of drawings, specifications to determine the necessary materials, order and selection of wood and materials, preparation of designs and much more; Y when you graduate you will also be able to planning and organizing work , framing walls, using hand and power tools, read and interpret blueprints , shape materials, assemble components, structure roofs, use leveling instruments, among other tasks.
BENEFITS
The duration of this course is 2 years , that is to say that in a short amount of time you can be working on what you like the most.
Economically , we can tell you a great benefit in relation to costs . You have to know and keep in mind that the tuition fees are cheaper compared to other studies such as Bachelor Degree.
It is important that you know that Australia is a country where trades are highly valued and well paid, therefore if construction and carpentry is what you are passionate about, this is a great opportunity for you.
On the other hand, these studies may qualify you for work visas after completion, and it will not be necessary to use an employer to sponsor your visa.
4 SIMPLE STEPS TO STUDY CARPENTRY AND WORK AT IT
1- Enroll in the course with duration of 2 years.
2- After finishing and graduating, you may be eligible to apply for the 485 Graduate Visa, which is a temporary work visa that allows you to live and work in Australia.
3- With the postgraduate visa, you must complete a program through TRA (Trades Recognition Australia). This requires 12 months of paid work experience and you can pass a positive full skills assessment for migration purposes.
4- Finally, after receiving a positive skills assessment, you may be eligible to apply for permanent work visas.
Now do you think it is possible to make this dream come true?
We can help you comply with it, with free and personalized advice. Contact us.
Empecemos a conocernos 🙂
Cuéntanos sobre tus intereses y objetivos. Dá el primer paso y nosotros te acompañamos el resto del camino.