Why become a Construction professional in Australia?
Discover the benefits of studying and practicing as a construction professional in Australia.
We present you all the privileges of studying and working as a construction professional in Australia.
With a wide variety of Qualifications in many disciplines, such as Carpentry, Plumbing, Painting, Building, Civil Design, Cabinet Making, Construction among others, there is a diversity of options available for those who wish to specialize in this rapidly evolving field. In addition to the world-class internship facilities and the advances that have been made over the years to ensure that students get the best preparation during their studies, there are countless advantages and opportunities associated with this sector in Australia!
As a student or professional looking to broaden your career prospects, studying in the Construction sector in Australia could be the perfect option for you. We invite you to learn more about it in the following article!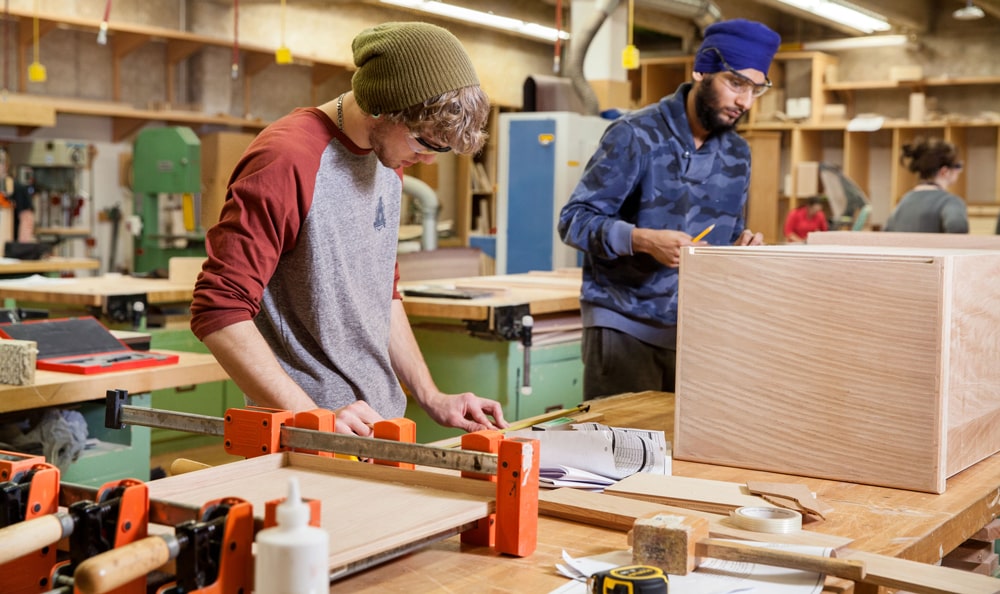 Why study Construction in Australia?
Would you like to know the benefits of studying in the Construction sector in Australia? Here is everything you need to know about it:
You will experience some of the most advanced facilities and have the opportunity to learn about the Australian workplace before you graduate.
The professors are specialists with international research recognitions.
The degrees awarded by Australian universities are recognized globally. In addition, they are ranked among the top 100 in the world.
You will be in permanent contact with students from all over the world.
Depending on the program you enroll in, you may be able to apply for the Temporary Graduate Visa (Subclass 485), which allows you to work full time.
You will have the opportunity to apply for permanent residency if you are eligible, since at this moment the professions related to this sector are in demand according to the Skill Occupation List. Skill Occupation List .
Study and work in Australia
In order to work as a construction professional in Australia you will need a visa that allows you to do so. The student visa is one of them and at ACE Australia we help you to get it!
With the student visa you will be able to combine studies and work in Australia. Specifically, you will be able to work part-time (24 hours/week) for the duration of your classes and full-time (48 hours/week) during the vacation period.
In Australia you will find many types of Qualifications related to Construction that you can study, from VET or TAFE courses to university studies in order to specialize and get a job in the sector that will help you to pay for your stay in the country.
In addition, studying and working in the Construction sector in Australia, can open up many exciting opportunities, from developing new skills, gaining valuable work experience, and secure a stay of at least 5 to 8 years, including full time work permits and having the option to be able to apply for visas such as the Temporary Graduate visa.This will allow you to stay and work full time in Australia at the end of your studies.
If you would like to receive more details, write to us or read on!
Visa options for industry graduates
One of the most attractive benefits of studying in the Construction sector in Australia is the conditions that allow eligible students and graduates to live, learn and develop careers after their studies through the Temporary Graduate Visa (Subclass 485), which is available to students and graduates who are eligible for the Temporary Graduate Visa (Subclass 485). is a visa that allows international students who have completed at least two years of study in Australia and meet the Australian Study Requirement to work full time. Australian Study Requirement . Depending on the type of visa, it can last between 18 months and 4 years. Benefits of this visa include the ability to work without time restrictions, gain professional experience in Australia and include members of your family unit, such as a partner. This visa is commonly referred to as "Post-Study Visa", but this gives rise to some confusion as the Post-Study visa is one of the two types of this 485 visa. In the following link you can find on the official website of the Department of Home Affairs of Australia all the relevant information for this visa.
Added to this is some great news! On July 1, the Department of Home Affairs officially published officially that those who have studied a degree that is on the list of eligible list of eligible qualifications and occupations will be able to access an extra 2 years of Temporary Graduate Visa 485 Post-Study Work Stream.
What are the requirements to work in the Construction sector in Australia? Everything you need to know!
Of all the countries, Australia is the destination of choice for international students as it is an excellent destination to study and work. In the Aussie territory, there are many job opportunities for students, but without a doubt, working in Construction in Australia must be one of the best. Below we share with you what you need to have to work in this sector:
Visa to work: you must have a visa that allows you to work, such as the Student Visa, the Work&Holiday Visa or the Sponsor Visa, for example.
Tax File Number (TFN): is a requirement to work in construction in Australia and in any other sector as it is a document that identifies you as a taxpayer and allows the government to deduct the statutory tax rate from your salary.
ABN: is a document that accredits you as an independent worker. The ABN gives you more freedom since you have the possibility to apply for a job in as many construction companies as you wish.
White Card. It is a certificate that proves that you have the knowledge in construction, that you know the safety rules and know how to act in case of emergency.
Own equipment. Steel-toed safety boots ($36 AUD), hard hat ($20 AUD), yellow T-shirt ($10 AUD), gloves and safety glasses ($15 AUD).
What is not a requirement, but is very important, is a driver's license . It is likely that you will be asked to drive a company vehicle, so it is very useful to have one.
How to manage the White Card?
The White Card Australia is a certified plastic card issued to them after they have completed a general construction training course. With this credential they will be able to work in the construction industry and it will be very easy for their employer to verify that they have the permit to perform this type of work.
White Card Australia course
There are two ways to take this course/certification in order to work in construction in Australia. One is to do it in person and the other is to do it online. If you are interested in learning more about the differences between both modalities, contact us and we will be glad to advise you!
(1) Documentation proving your identity
To be able to take the integrative exam, you must present certain documents that prove your identity and each one is worth a certain number of points up to 100 points.
On the one hand, there are the primary documents that must be presented, such as the passport, which adds up to 70 points. And then there are secondary documents that add up to fewer points (between 25 and 40). One primary and the rest secondary must be submitted to complete the 100 points.
(2) Cost of the course
The cost of the White Card Australia course varies depending on the modality selected, either online or face-to-face and where you do it, either in New South Wales, where it is more expensive, or in another state of Australia. As a reference, the price is around AUD 50 to AUD 169 approximately.
(3) Validity of the credential
The White Card Australia will be useful to work in all Australian states. This card does not expire and in case it is lost, you will have to request a new reprint at the place where you have taken the course.
Possibility to study at VET-TAFE Colleges
One of the opportunities offered by the Australian Education System for this sector is the opportunity to undertake study programs at VET-TAFE Colleges, which offer a wide range of technical and vocational Qualifications in the Construction sector, within the category of Certificates, Diplomas and Advanced Diplomas. These pathways are all complementary to each other and allow students to undertake a first study experience of shorter duration in Australia and then to be able to connect these already completed studies, through Pathways with other Australian Universities.
For example, a student who wishes to begin his or her experience by studying a Qualification related to the Construction sector decides to start with a Certificate IV in Building and Construction 52-week Certificate IV in Building and Construction at Liberty Construction College a VET institution with campuses in Brisbane, Sunshine Coast, Adelaide and Gold Coast. At the end of their studies, if the student wishes to extend their experience in Australia and continue their professional preparation in this sector, they can take a pathway to a University to complement their Certificate with a Bachelor or Master in Construction Management or even in Civil Design or Civil Engineering. This type of strategy will allow you to project a long-term experience taking advantage of different benefits, which will be developed in greater detail in the following section.
6-year experience model in Gold Coast, Australia
Based on what we have shared, below, we will detail an experience model including all the benefits mentioned above, so that you can make and analyze a financial planning for this type of medium-long term route plans in Australia, accessing the benefit recently announced by the Australian Government. As an example we will use the Master of Engineering Science at The University of New South Wales (UNSW).
To begin his or her experience, the student will complete 2 years of the Master of Engineering Science at The University of New South Wales (UNSW) at the campus in Kensington (Sydney). This type of Qualification currently (2023) has a total Tuition Fee of 96,845 AUDnot to mention the possibility for international students to apply to different types of scholarships (between 10% and 50%) depending on the academic area, nationality, academic merit, among other criteria that may be taken into consideration. In the case of The University of New South Wales (UNSW), you can access information about the different scholarships through the following link.
After the two years of study at UNSW at the Kensington (Sydney) campus, the student has the possibility to apply for the Temporary Graduate Post-Study Work Stream Visa. The duration of this new Visa will be 2 years, since the student has completed a Master Degree. However, following the new measure announced by the Australian Government as of July 1, 2023, within the List of occupations and qualifications eligible for post-study work rights, a large number of qualifications in the Engineering Science sector are included in this list. Among them, the Master of Engineering Science. Giving the student the possibility of adding 2 more years to their experience. That is, with a total investment of 96,845 AUD (which with Scholarships can be reduced even more), you will be able to undertake a 6-year experience in Australia, having the possibility to work full-time developing in your professional field.
If you liked this article and are looking for personalized advice! At ACE Australia we can help you and provide you with all the information you need on a case-by-case basis! In our ACE Australia website, we have a section specially designed for this type of benefits and depending on the sector in which you are interested in studying you can find different articles about the advantages of studying in sectors such as Health , Engineering , Marine Sciences among others.
We invite you to contact us for the best up to date information available and to get the benefits of studying in the Construction sector in Australia. Get ready to #LiveTheExperience.
Empecemos a conocernos 🙂
Cuéntanos sobre tus intereses y objetivos. Dá el primer paso y nosotros te acompañamos el resto del camino.