Why Gold Coast can be the ideal destination for your studies in Australia?
Study and work on the Gold Coast. Everything you need to know!
If your goals for 2023 include studying and working in Australia, this article is for you!
In Australia, the land of kangaroos, great opportunities await you. Especially if you decide to study in the city of Gold Coast, one of the best cities in Australia and one of the most chosen by international students.
Gold Coast offers an excellent quality of life and a high level of education. Besides, there is so much to see in Gold Coast that it is impossible not to fall in love with the city. I think you'll agree that this Australian city has it all! However, if you are still undecided, you can't miss this article!
Here we will show you the potential of the most surfing aussie city. We will also tell you what you can study, the requirements, how to study and work, and much more!
Top-notch education on the Gold Coast
Did you know that the Gold Coast is known as the Student Hub hub in Australia? Over the past 50 years, the Gold Coast has undergone a major transformation. It grew from a small town to the seventh largest city in Australia. However, when it comes to studying and working in Australia, Gold Coast is the best reference. The universities and educational institutions in Gold Coast have a great reputation, are recognized worldwide, have a wide educational offer, as well as the most advanced and modern facilities in the country. In addition, this city offers numerous immigration benefits for those seeking to develop a successful career as a student and professional. This places it in the top 10 of the best cities to live, study and work in Australia.
Studying and working on the Gold Coast, Australia can open up many exciting opportunities, from developing new skills, gaining valuable work experience and securing a stay of at least 5 to 8 years, including full-time work permits!
If you would like to receive more details about the city of Gold Coast, write to us or read on!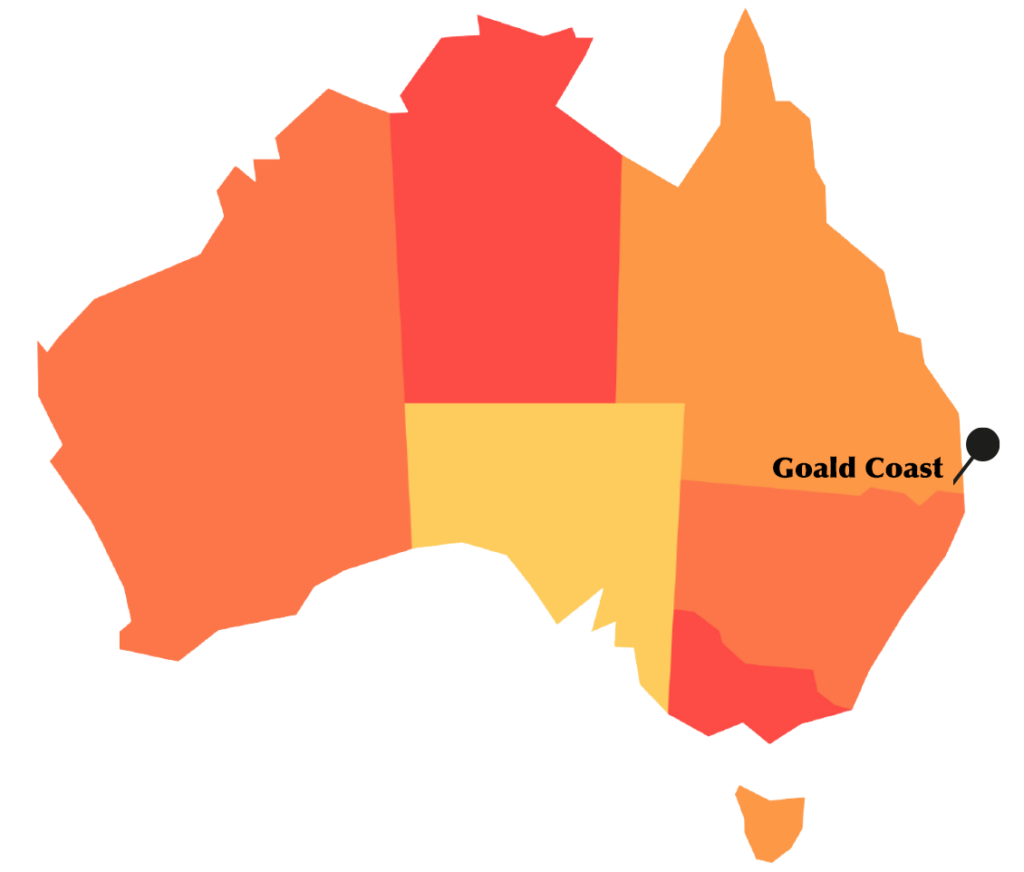 How to study in Gold Coast?
Its mild climate, multicultural environment, low cost of living and endless leisure options, together with the quantity and quality of institutions to study English, VET courses and university programs, make Gold Coast a great destination to study and live a unique experience in Australia. In addition, with the Student Visa (subclass 500) you will be able to work part-time (24 hours/week) during classes and full-time (48 hours/week) during vacation periods.
To study in Gold Coast you will have to fulfill some requirements, such as enrolling in a course approved by the Australian Government or applying for a student visa. At ACE Australia we help you in all phases of your experience!
Write to us and an ACE Australia member will contact you to advise you and help you plan your Australian adventure on the Gold Coast!
Benefits of studying in a Regional Zone like Gold Coast
Have you ever heard of Regional Zones in Australia and the importance of these when planning an experience? In November 2019, the Australian Federal Government published a NEW MEASURE measure that benefits anyone undertaking an experience in regional areas in Australia. This had the objective of not only strengthening Australia's economy through immigration, but also with the aim of boosting the Regional Zones .
Did you know that the Gold Coast is considered a Regional Zone?
The Regional Zones are areas that the Australian Government has an interest in promoting. These are areas that do not have a large population of inhabitants and that the Australian government promotes due to the high demand for professionals, i.e., many professional vacancies to fill.
Gold Coast is currently located within "Regional Cities & Areas and is considered a Category 2 Regional Zone. For this reason, when deciding in which city to carry out the study experience, it is advisable to consider whether the city is included in the "Regional Cities & Areas". "Regional Cities & Areas and which category it has, due to the attractive migratory benefits that can be obtained.
By studying in a "Regional City/Area" such as Gold Coast one gets 2 benefits:
(1) Being a Category 2 Regional Zone gives the student access to 1 extra year of Graduate Visa.
(2) Studying in regional cities such as Gold Coast also adds points towards the Skill & Profile Test for permanent migration visas. If you plan to study in a Regional Area in Australia, you should take into account that a diploma you obtain in the 2-year course of your choice will add 5 extra points. In addition to this, for choosing an academic institution located in these areas, you receive 5 more points. It would be 10 extra points to be added to the path to permanent residency . Let's remember that the minimum number of points to be obtained is 65 between different personal and professional attributes. Once these 65 points have been met, you enter the pool of candidates who have access to the Australian Government's 'Annual Occupational Quotas'. These are called 'Expression of Interest' and are limited. Those candidates with more points are more likely to be professionally invited to apply for visas.
If you are interested in undertaking a study experience in Gold Coast and accessing the benefits of this city, being a Regional Zone, we invite you to contact us for personalized advice!
How to work on the Gold Coast?
Gold Coast offers a high and constant supply of jobs throughout the year, especially in the service sector. The labor field is quite busy for international students. The largest number of vacancies is in the tourism sector and the best time to work is in summer. If you manage yourself well, it is possible to afford your stay with an average salary of $480 AUD per week working part-time on an average salary. So if you have decided to live on the Gold Coast with the Student Visa, you will be able to work 24 hours a week with an average salary of approximately $480 AUD.
In order to work on the Gold Coast, in addition to having your student visa, you will need to apply for a Tax File Number before you start working. It is a simple procedure and you can do it once you have arrived in the city!
What are the most in-demand jobs for students on the Gold Coast?
In Gold Coast you can find jobs of all kinds, although the most demanded jobs for international students are mostly related to the service sector. Summer is the peak season on the Gold Coast. Many young people decide to visit it attracted by its beaches and nightlife. That is why tourism grows considerably at this time of the year, increasing the labor supply in the service sector. This is a great advantage if you intend to live on the Gold Coast while studying and working. Currently the most in-demand jobs are:
Hospitality
Cleaner
Deliveryman
AuPair
Removals
Painting and carpentry
Construction
Gardening
Tourism is the lifeblood of the Gold Coast. In fact, one in four jobs is created as a result. Did you know that more than 10 million people visit the Gold Coast each year?

The Gold Coast is surrounded by wilderness, rainforests, and tropical jungle. The entire city is built between 500 kilometers of canals and rivers that link the land and the sea.

It is a multicultural city, perfect for making friends from all over the world, tasting different dishes and learning other languages.

The most beautiful sub-tropical climate in Australia is on the Gold Coast. In the summer the temperature is usually 30° C, ideal to enjoy its beautiful beaches!
8-year experience model in Gold Coast, Australia
Based on what we have shared, below, we will detail an experience model including all the benefits mentioned above, so that you can make and analyze a financial planning for this type of medium-long term route plans in Australia, accessing the benefit recently announced by the Australian Government. As an example we will use the Bachelor of Industrial Design at Griffith University. Griffith University.
To begin his experience, the student will complete 3 years of the Bachelor of Industrial Design at Griffith University, on the Griffith campus. Gold Coast. This type of Qualification currently (2023) has a total Tuition Fee of 108,000 AUDnot to mention the possibility for international students to apply to different types of scholarships (between 10% and 50%) depending on the academic area, nationality, academic merit, among other criteria that may be taken into consideration. In the case of Griffith University, you can access information about the different scholarships through the followinglink.
Following the three years of study at Griffith University at the Gold Coast campus, the student has the possibility to apply for the Temporary Graduate Post-Study Work Stream Visa. The duration of this new Visa will be 2 years, since the student has already completed a Bachelor's Degree, plus 1 year more for having studied at the Gold Coast campus, a Regional Category 2 Area. However, following the new measure announced by the Australian Government as of July 1, 2023within the List of occupations and qualifications eligible for post-study work rights A large number of qualifications in the Industrial Design sector are included in this list.. Among them, the Bachelor of Industrial Design. Giving the student the possibility of adding 2 more years to their experience. That is, with an investment of 72,000 AUD (which with Scholarships can be reduced even more) during the first two years of the Bachelor Degree, you will be able to undertake an 8-year experience in Australia, having the possibility to work full-time developing in your professional field. In addition, the fact of having studied a Bachelor's degree in a category 2 Regional Area such as Gold Coast, will give you the possibility to score points towards Permanent Residency and not only that!
At ACE Australia we offer educational experiences in Gold Coast and also in all the cities of Australia. We provide you with personalized advice to plan your adventure in Australia.
If you liked this article and are looking for personalized advice! At ACE Australia we can help you and provide you with all the information you need on a case-by-case basis! In our ACE Australia website, we have a section specially designed for this type of benefits and depending on the sector in which you are interested in studying you can find different articles about the advantages of studying in sectors such as Health , Engineering , Marine Sciences among others.
We invite you to contact us to get the best updated information available and to obtain the benefits of studying in the city of Gold Coast, Australia. Get ready to #LiveTheExperience.
Empecemos a conocernos 🙂
Cuéntanos sobre tus intereses y objetivos. Dá el primer paso y nosotros te acompañamos el resto del camino.