One of the First Internationals to Fly to Australia! First-Person Experiences – Nadia
I fell in love with everything beyond the fact that I love the beach I also think Gold Coast is the perfect place at least for me.
Nadia has been able to overcome those obstacles imposed by the Pandemic and being able to pursue her Personal Plan in Australia. Everything comes from months of work to being able to fly-in to Australia in December, 2020 – even before the reciprocity Travel Bubble between New Zealand and Australia was established -. Now that she has commenced her experience in TAFE Queensland – one of the most renowned Academic Institutions of the country – we have invited her to share her First-Person Experience.
With a personal journey in New Zealand so far, Nadia set her own long-term Personal Plan on the other side of the Tasman Sea, precisely in Gold Coast, Australia. Indeed, this is what personal objetives are, those dreams and goals we all pursue with work, putting tones of effort and dedication. This is a story that reflects that, even during Pandemic times. Argentina, New Zealand, and now Australia. Welcome to this Experience Nadia! With a Certificate & Diploma of Early Childhood Education ahead, there's gonna be a lot of memories to be share!
The Australian Government remarked in several opportunities that the frontier will be closed until it is really safe for people in Australia to reopen them. They have always looked after and considered the health and safety of their society as a top priority.
ia. Welcome to this Experience Nadia! With a Certificate & Diploma of Early Childhood Education ahead, there's gonna be a lot of memories to be share!
The Plan
1. What motivated you to go study in Australia?
I have been on holiday for a few months in Australia and I really enjoyed everything. I fell in love with Queensland, the weather, the landscapes, I met my current partner. Living in Australia for a while was an idea that has been always in my mind, although I was in New Zealand for a while and I loved that country, my goal was to return to Australia and have the experience of living there.
2. Why did you choose to undertake the Early Childhood Education Qualification at TAFE Queensland?
I did some research about the different options I had. I was already sure and convince about what I wanted to study but I had to define 'where' I wanted to study it. That part is quite complicated because Australia has an incredibly diverse Academic Offer. It is also another reason that motivated me to study in the Country. I was quite interested in TAFE Queensland academic programme and methodology and I also had recommendations from acquaintances regarding the place. My girlfriend helped me with the choice, and of course ACE Australia, and especially Nicolas, gave me all the information about the different Colleges in a very detailed and practical way.
3. Did the ACE Australia Team get you any Scholarship benefits for your Academic Plan?
Yes, initially my idea was to study only the Certificate of Early Childhood Education, but my idea already was to be able to advance in my career in the future. Although everything was a bit affected by Covid, honestly the delays and rescheduling gave me enough time to change my study plan to something more complete and comprehensive. I decided to start with a short-term English Course to feel more confident facing an advanced professional study in another language. I finally add a Diploma Qualification of Early Childhood Education & Care to the Certificate as well. In this sense, ACE also helped me a lot and got me a significant discount with TAFE Queensland on the value of the complete study plan. This highlights the seriousness and honesty in all communication and information generating a lot of confidence in the clients.
4. When choosing Australia as a destination for this experience, did you considered the possibility offered by the Australian Government to work and study with a Student Visa?
Although it is an important point to gain job experience during the stay, and especially if you come from another culture, I took it into account but it was not a decisive factor. I was already working in New Zealand and in this case, I was already familiar with that experience. However, I know that for many students who set steps for the first time in a foreign country, especially with another language, it is a challenge and it is very valuable to have the possibility to work. And in economic terms, it is good to have the opportunity to be able to work here.
5. What key questions did you ask yourself when taking the decision to undertake this experience?
As I said before, Australia and going back to study – but this time in a different country – was always on my mind. Plus I needed to make a change and move out of my comfort zone to move forward. Honestly, there wasn't a lot of hesitation when taking the decision, I'm a pretty confident person when it comes to taking on something I really want to do. You just feel it and go for it. I think ACE was the best option for me, working with them felt like "there is a team", and I will always be grateful to have crossed their path. As they say, everything happens for a reason.
6. How did you learn about us? Through:
The Australian Embassy website
You were contacted by a member of the team
You were recommended by a friend
Our social media channels (Instagram and Facebook) ✅
Our website
The Execution
7. Did you applied for visas in Australia before this Student Visa? If it was your first time, did you expect the application to go the way it did?
I only applied for a tourist visa, and it was quite quick and easy but it is a completely different situation.
The Student Visa requires a lot of work and I think it is essential to have a good agent who can solve doubts and unexpected situations, especially last year and this year (unfortunately we are still stuck with the pandemic). However, despite all the headwinds 😂, I was surprised and could not believe that my visa was approved in such a short time and I am sure, because I witnessed it, that part of the merit was the result of the unstoppable work of Nicolás and his team to achieve it.
8. If there were any difficulties or challenges in terms of documentation or process to enter Australia, were they easily solved? How did you feel at the time?
I think that at this point there were no inconveniences, or maybe I did not notice them because the agency solved them by helping me in such a way that I could move forward and not stall the application. So I can assume that it was solved with ease. The only thing that delayed my application was the biometric data collection but it was independent of Australian Immigration Department and I only had to wait for the collection centres in NZ to open, because they were closed due to Covid. I honestly know that if it had not been for that, the application would have been super fast. But all of that is unrelated to the Visa and is specifically a product of the turbulent year we are living in. In this sense, the help of Nicolas and his communication with TAFE (who were very flexible) was extremely valuable for rescheduling the Intake dates of the studies that we had to change several times to fit everything and to be able to come directly to Australia when it was time to get my visa. Thank you Nicolas!😊
The Result:
9. How did you feel to be one of the first International Students from all over the World to enter Australia by applying for a Visa from Overseas?
I really didn't know it was like this until recently hahaha. I felt double grateful for all the support from ACE. I sincerely felt that I should contribute by supporting their services and motivating those who want to undertake their international student experience in Australia. I am very happy and feel like a very lucky person to be where I am today.
10. What would be the recommendation you would give to other students who want to participate in this type of experience?
I think that if you feel the tickle that moves you to undertake this experience, my recommendation is to get informed and not to stay with doubts or with the desire. In the end, it is worth it and it is not a risk if you find the right help when you start the process. I have friends who had a completely different and even opposite experience to mine when applying for their student visa, and that is why I emphasize ACE because I know that they really put one's jersey with their work and in a more human and not just commercial way.
11. How would you describe in three words your experience of coming to Australia?
Wonderful
Valuable
Promising
12. If a friend of yours asked you for a key piece of advice for the Student Visa application, what would you advise?
Get your biometrics done before they close again hahaha! Joke joke. It's good to get all the doubts out of your mind, no matter how silly they may sound, don't feel judged or ignorant for not knowing about the process. Ask for help from people who have already gone through the experience even if they are different for each person. Their testimony always gives you more options to consider. Get an agency that really cares about their work and does not see you only in a monetary way, that values their clients' personal Plan. At this point, I obviously recommend ACE Australia, for their commitment, responsibility and honesty above all. And I don't work or receive any commission for naming them so much hahaha, I just think they do a good job and it deserves to be valued, plus they really commit to every situation.
The Award: Living on the Gold Coast
13. Why did you choose Gold Coast as your career destination?
I was on holiday in 2019 and it was amazing, I fell in love with everything beyond the fact that I love the beach I also think Gold Coast is the perfect place at least for me, it has a lot of variety in whatever you are looking for, the weather is amazing and I have a lot of friends who are living here and my girlfriend.
14. What do you like most about this city?
The beach, the weather, the atmosphere, the people live at a different pace and it is very easy to feel comfortable, but you have to like the heat to live here 😂, because it is carnival all your life, as the song of 'Los Fabulosos' (Music Band) says. The reality is that I like everything.
15. What goals do you have in mind for next year? In terms of your personal and professional goals on the Gold Coast, what future vision do you want and project for your path?
The reality is that next year is an important part of my study plan. By that time I plan to have more experience in Childcare and to be able to complement my career with working with children. It really is something I am passionate about. My professional and personal goal is to dedicate myself fully to the profession and at some point manage my own Childcare Centre. I do not know yet 'where'. But I do know that wherever I go I want to be part of the Early Education of Human Beings.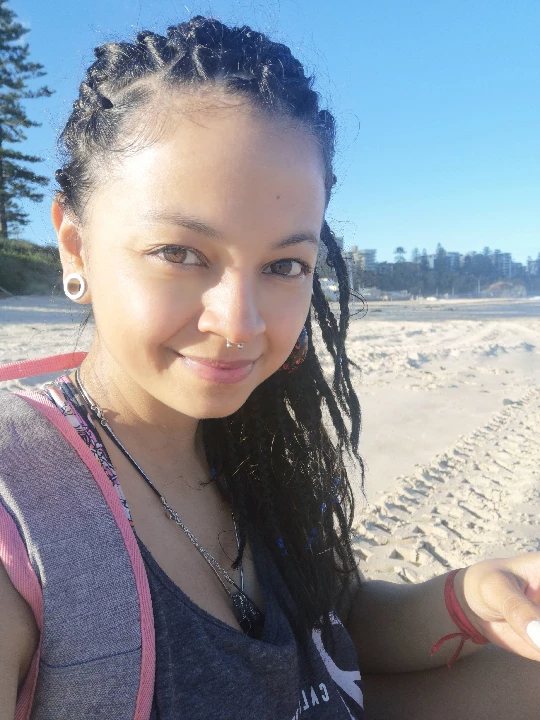 To all the International Community, we are fully available for any inquiries that you might have in mind, nor matter if they are small or big scale questions for your Personal Plan. We daily enjoy what we bring as a Team, and with great pleasure, We will bring it to you too!
¡Contact Us!
Empecemos a conocernos 🙂
Cuéntanos sobre tus intereses y objetivos. Dá el primer paso y nosotros te acompañamos el resto del camino.