The Minister of Education of Western Australia recognizes ACE Australia through a statement. Here's why!
Find out why Perth is the study destination of choice for so many!
Perth has become an internationally recognized city, making it the perfect place for students looking to study and practice their profession in Australia. The city boasts authentic old towns, incredible beaches, spectacular views and a vibrant culture. This, combined with a prestigious educational offering and world-class academic institutions, makes Perth the ideal destination for those seeking a study abroad experience.
The Minister of Education of Western Australia officially contacted ACE Australia to highlight our service to the international community. First and foremost, we are proud to work every day on the personal projects of each of you here in Australia! Secondly, to be able to do so with dedication and professionalism, always focused on the personal strategy of each project, it really does gratifying, because we see how each personal dream is being fulfilled in the Land of the Kangaroos! And thirdly, to receive the recognition by official Australian Government bodies such as the Minister for Education of Western Australia We are very proud, and as always, we are going for more! How? Facilitating day by day more and more dreams here in Australia, and for that, information to the power of projects is the BIG tool! If we add to that a personalized accompaniment with strategy, secrets for Scholarships, secrets for long term look in Australia, success is guaranteed!
Now, let's go to the details that you can NOT miss when considering in which city to study, and this time, we evaluate Perth and its particularities.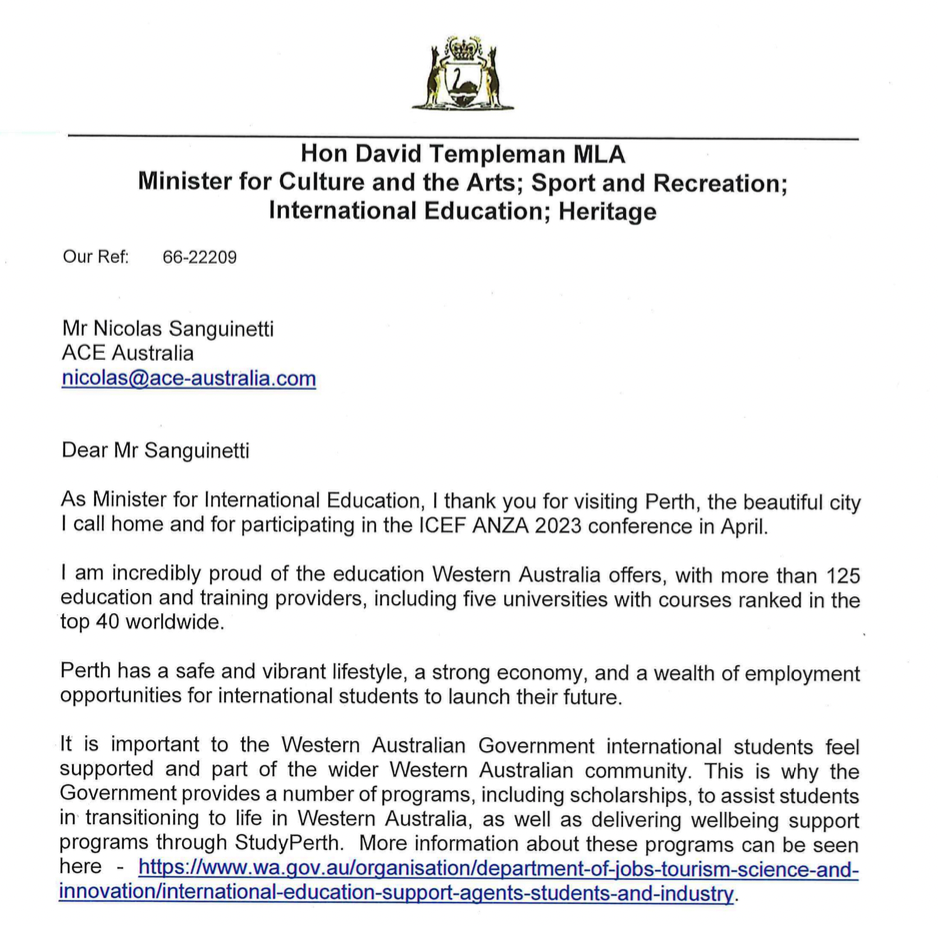 Curiosities about the city of Perth
This city is located in the largest Australian state, Western Australia. If we divide Australia into two halves across the center, the left side would be Western Australia.
Perth was founded in 1829 and has become one of the richest cities in the world thanks to its high export of raw materials such as gold, nickel, iron and aluminum.
It is a growing city that offers job stability and offers in all sectors.
It is a place with multiple activities throughout the year.
Public transportation is very well connected.
It has a very warm and sunny climate and is the Australian city with the most days of sunshine per year, even during winter!
The city is surrounded by nature: beaches, national parks and extraordinary landscapes to enjoy.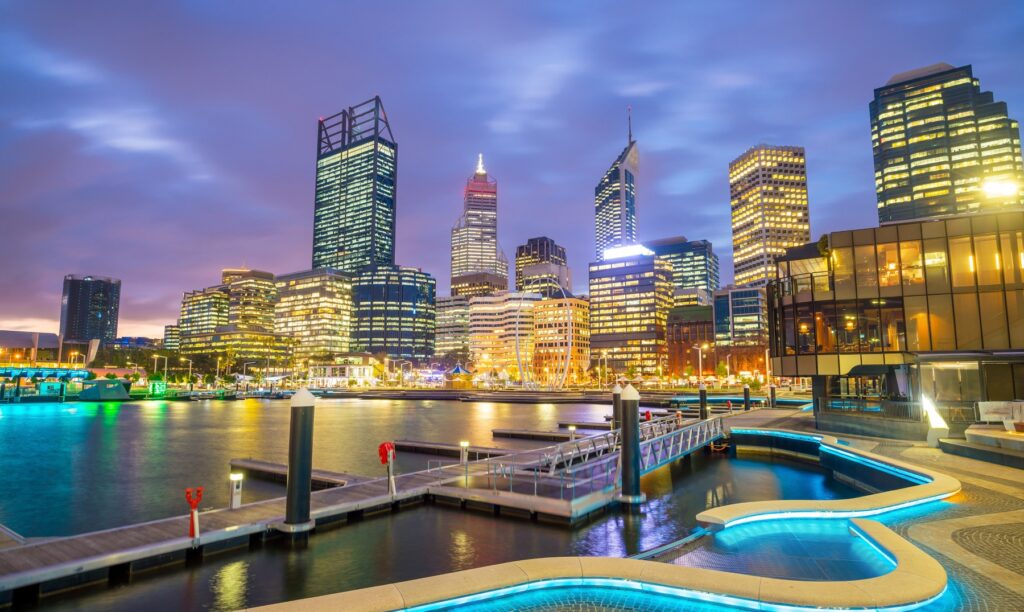 Job opportunities for international students in Perth
As we shared in the previous section, Perth is characterized for being a growing city, offering job stability and offers in all sectors and professional areas. In relation to this, Study Perth has shared how the government of Western Australia is generating 'Employment access' for international students in various high demand professional industries, not only in the city of Perth, but throughout the state of Western Australia.
Among the changes announced to address the skills shortage in Western Australia include: waived application fees, reduced English language and work experience requirements, and more! If you are interested in learning more about job opportunities in Perth, do not hesitate to contact us!
Study and work in a regional area
Have you ever heard of Regional Zones in Australia and the importance of these when planning an experience? In November 2019, the Australian Federal Government published a NEW MEASURE measure that benefits anyone undertaking an experience in regional areas in Australia. This had the objective of not only strengthening Australia's economy through immigration, but also with the aim of boosting the Regional Zones .
Did you know that Perth is considered a Regional Zone?
Regional Zones are areas that the Australian Government has an interest in promoting. These are areas that do not have a large population of inhabitants and that the Australian government promotes due to the high demand for professionals, i.e., many professional vacancies to fill.
Perth is currently included in "Regional Cities & Areas". . For this reason, when deciding in which city to carry out the study experience, it is advisable to consider whether the city is included in the "Regional Cities & Areas". "Regional Cities & Areas because of the attractive migration benefits that can be obtained.
By studying in a "Regional City/Area" one obtains 2 benefits:
(1) 1 or 2 extra years for the Graduate Visa once you finish your studies, depending on the Regional Area Category. It would be, to give a reference: 2 years of Master + 3 years of Graduate Visa full-time working conditions. As it is well shared in the previous point, for Bachelor Degrees and Master Degrees 2 years of Graduate Visa are granted, for Masters by research, there are 3 and for a PhD there are 4, we would simply add one more year to each one of them; and
(2) Studying in regional cities also adds points for the Skill & Profile Test for permanent migration visas. If you plan to study in a Regional Area in Australia, you should take into account that a diploma you obtain in the 2-year course of your choice will add 5 extra points. In addition to this, for choosing an academic institution located in these areas, you receive 5 more points. It would be 10 extra points that would be added to the path to permanent residency . Let's remember that the minimum number of points to be obtained is 65. between different personal and professional attributes. Once these 65 points have been met, you enter the pool of candidates who have access to the Australian Government's 'Annual Occupational Quotas'. These are called 'Expression of Interest' and are limited. Those candidates with more points are more likely to be professionally invited to apply for visas.
If you are interested in undertaking a Perth study experience and accessing the benefits of this city, being a Regional Zone, we invite you to contact us for personalized advice!
Incredible benefit for parents and children: undertake an experience in Perth, studying a Master Degree and accompanied by your family!
Western Australia is the only state that provides an incredible benefit to those students looking to undertake a Master's Degree and at the same time to do this experience with their family, accompanied by their children!
What is this benefit? From StudyPerth they have shared all the details about it! When undertaking a study experience in an institution in the state of Western Australia, in the case of studying a Master's Degree and undertaking the experience accompanied by your family, the schooling of the children accompanying the student will be bonus! This makes Western Australia one of the best destinations for parents with children, who wish to undertake a study experience and be able to practice their profession in Australia, accompanied by their family, which is extremely important in the case that one wants to migrate to Australia on a long term or permanent basis.
7-year experience model in Perth, Australia
Based on what we have shared, below, we will detail an experience model including all the benefits mentioned above, so that you can make and analyze a financial planning for this type of medium-long term route plans in Australia, accessing the benefit recently announced by the Australian Government. As an example, we will use theMaster of Food Security at Murdoch University.
To begin his experience, the student will complete 2 years of the Master of Food Security at Murdoch University, at the campus of Perth. This type of Qualification currently (2023) has a total Tuition Fee of 74,640 AUDnot to mention the possibility for international students to apply to different types of scholarships (between 10% and 50%) depending on the academic area, nationality, academic merit, among other criteria that may be taken into consideration. In the case of Murdoch University, you can access information about the different scholarships through the followinglink.
After the two years of study at Murdoch University at the Perth campus, the student has the possibility to apply for the Temporary Graduate Visa Post-Study Work Stream. The duration of this new Visa will be 2 years, since the student has completed a Master's Degree, plus 1 year more for having studied on the Perth campus, a Regional Category 2 Area. However, following the new measure announced by the Australian Government as of July 1, 2023within the List of occupations and qualifications eligible for post-study work rights A large number of qualifications in the Food Safety sector are included in this list.. Among them, the Master of Food Security. Giving the student the possibility of adding 2 more years to their experience. That is, with an investment of 74.640 AUD (which with Scholarships can be reduced even more) during the two years of the Master Degree, you will be able to undertake a 7-year experience in Australia, having the possibility to work full-time developing in your professional field. In addition, having studied a Master's degree in a Category 2 Regional Area such as Perth, will give you the possibility to score points towards Permanent Residency and not only that! If you travel with your family, your children's education will be subsidized!
If you liked this article and are looking for personalized advice! At ACE Australia we can help you and provide you with all the information you need on a case-by-case basis! In our ACE Australia website, we have a section specially designed for this type of benefits and depending on the sector in which you are interested in studying you can find different articles about the advantages of studying in sectors such as Health , Engineering , Marine Sciences among others.
We invite you to contact us for the best up-to-date information available and to get the benefits of studying in Perth, Australia. Get ready to #LiveTheExperience.
Empecemos a conocernos 🙂
Cuéntanos sobre tus intereses y objetivos. Dá el primer paso y nosotros te acompañamos el resto del camino.